China-Russia INNO Fund
Russian Cluster @ BLACKARK
Organizer
China Electronics Shenzhen Company
China Electronics BLACKARK Operation
Da Vinci Capital Management Limited
Acting-Organizer
Hong Kong Innovation Services Limited
China Electronics Shenzhen Company (CESZ), the subsidiary of China Electronics Corporation (CEC) will carry out smart hardware technology incubation and acceleration business for corporates via BLACKARK International Smart Hardware Innovation Center and also cooperate with internationally renowned institutions to provide better service for smart hardware technology enterprises.
Hosted by CESZ and China Electronics BLACKARK Operation Co.,LTD, BLACKARK International Smart Hardware Innovation Center Conference will be held on Oct 24, 2018 at Block D of Electronics Science&Technology Building, Huaqiangbei, Shenzhen. CESZ will cooperate with Da Vinci Capital Management Limited, the leading independent investment manager in Russia and Russia Venture Capital (RVC), the Russian Sovereign Wealth Fund to establish the RMB 600 million China-Russia Innovation Fund.
Da Vinci will bring a number of high-quality projects from Russia to CEC BLACKARK International Smart Hardware Innovation Center building up a Russian Cluster @ HQB. This project will give impetus to industrial transformation and upgrading of Huaqiangbei and create a world-class smart hardware innovation representative zone, which could be an innovative cooperation example for the Belt and Road Initiative.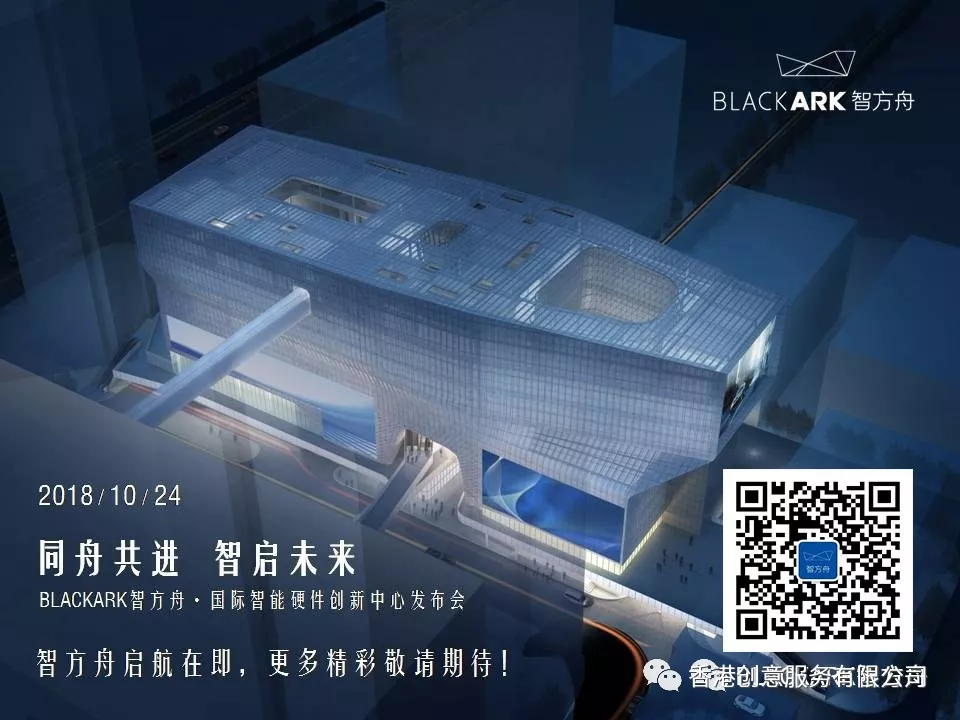 Design diagram of CEC BLACKARK
The State Council issued the "Guidelines on Upgrading of Innovation and Entrepreneurship" in September 18 to promote the intensive integration on innovation and entrepreneurship both internationally and nationally, the formation of various international innovation and entrepreneurship clusters, and the significant cooperation with Belt and Road Initiative.
Russian Cluster @ HQB by Da Vinci is fully met the important development policies of  China-Russia cooperation. They will bring the first 12 enterprises for roadshow and more high quality projects will come to Shenzhen later for the intensive integration. The brand new 20,000 square meters CEC BLACKARK International Smart Hardware Center will be grand opening in the morning of Oct 24 and the Road Show of Russian  Cluster will be shortly after the opening ceremony from 14:00-17:00. Look forward for your participation!
Hong Kong Innovation Services, the placementagent of the China-Russia INNO Fund and the integrator of the Russian Cluster, will continue to serve the funds, Innovation Center and the Russian Cluster.
Event Informatio
Time: 14:00-17:00

Date: Oct 24 (Wed)

Venue:  CEC Conference Hall, 9/F, Block B, Electronics Science & Technology Building, No. 2070 Shennan Zhong Lu, Huaqiangbei, Futian, Shenzhen

Participants: 100 (Simultaneous Interpretation will be provided)
---
Tentative Itinerary
Room A
(Simultaneous Interpretation will be provided)
14:00   XIANG Qunxiong-Chairman of China Electronics BLACKARK Operation Co.,LTD
14:15   Oleg KONEV-Managing Partner of Da Vinci Capital
14:30   Anna ERMAKOVA-Managing Director of Da VinciCapital
14:45   Andrey YASHUNSKY-CEO of Global Fintech Solutions
15:00   Presentation PRYTEK FinTech Platform
15:10   Elio MANCA-Managing Director of ITI Funds
15:20   Atul AHUJA-Vice President (APAC & India) of Softline
15:30  Victor SOKOVNIN-Head of International Projects of B2B-Center Company
15:40  Evgeny KOSOLAPOV-Representative in China of Skolkovo Foundation
15:50  Mishka AI
16:00  Anton TSENTALOVICH, Director of China Branch of Tion
16:10  Mike BUKHOVTSEV, CEO and co-founder of CINEMOOD
16:20  Ivan SHUMSKY, Director of Regula ltd.
16:30  Alexander PISAREV, CEO of OneCharge Inc
14:00-17:00
B2B Meeting Simultaneously, 15 mins for one section
(Tea break and national gift of Russian ice-cream will be served)
Please register in advance. Can accept on site registration if the time-slots are available. The language will be English and limited one on one translation is provided with first come first serve basis.
Room B
Da Vinci Capital
Room C
1.  PRYTEK
2.  Global Fintech Solutions
3.  ITI Funds
4.  Softline
5.  B2B-Center
6.  Skolkovo Foundation
7.  Mishka AI
8.  Tion
9.  CINEMOOD
10. Regula
11. OneCharge
Projects Matchmaking Contact:
Ms. Nina CHEN
+86 15521149912
ninachen@hkiservices.hk
Fill in the "China-Russia Project Matchmaking Application Form" ; More information about the company will be released afterwards.
Form download link:
https://pan.baidu.com/s/1B3W07JtmhdMVqhLeYilhBg
(If you can't successfully download the form, please contact Ms. CHEN directly to get the form.)
 The QR code for registration
   ▼Follow us for more amazing events▼
China-Russia INNO Fund Russian Cluster @ BLACKARK